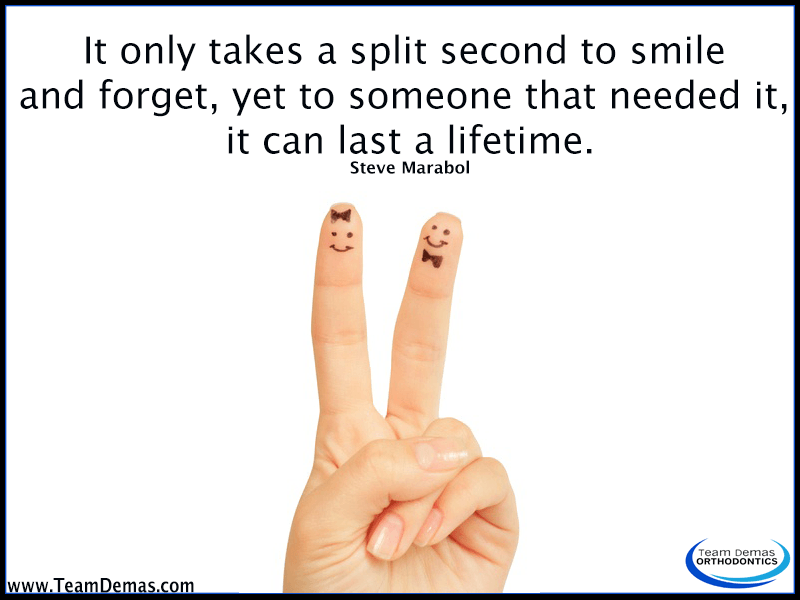 "It only takes a split second to smile and forget, yet to someone that needed it, it can last a lifetime." ― Steve Maraboli
As we go through our day-to-day lives, it can be easy to overlook the power a smile possesses to change a person's outlook. A smile can make someone's day go from bad to better. However, when your smile is not your best feature, something so simple becomes something problematic.
Serving as an orthodontist, I've encountered patients whose smile stirs feelings of self-consciousness. Our team believes everyone deserves to be able to smile and forget about their appearance. They deserve to share their smile without embarrassment. This is the mission of Team Demas Orthodontics.
I've seen patients' self-esteem change before my eyes as I share with them all of the options available to give them the beautiful lifetime smile of which they've always dreamed of. The expertise and technology we employ at Demas Orthodontics provides a unique experience for our patients.
It's a privilege to welcome young patients to Demas Orthodontics. The entire team invests in their lives, developing an individualized treatment plan that addresses their specific needs. We set goals and objectives so it's clear to our patients and their families what we hope to achieve. Then we watch them grow up with the confidence that comes with a beautiful smile. It may seem like a trivial thing, but it creates moments that drive the work we do and give us purpose to be the best at what we do.
Our patients are the heart and soul of Team Demas Orthodontics. We welcome new patients to search for their lifetime smile in Southington, the location of one of our branch offices. Schedule an appointment now to meet our team and begin the life-changing process of improving your smile. Contact us by phone at 860-274-6625 or complete the contact form on the website. We look forward to welcoming you to the Team Demas Orthodontics family.
Team Demas Orthodontics
27 Meriden Ave #2a, Southington, CT 06489, USA
Phone: 860-276-0333