Start Your Smile Journey
Orthodontic treatment is most often started between the ages of 12 and 16 since most permanent teeth will be in place. But, teens sometimes are hesitant to start using orthodontic appliances.
Teens can worry about their image and resist the idea of people seeing them with braces. Rather than thinking of the beautiful new smile as the end result, they only think of the restrictions that they'll have during their orthodontic treatment.
Luckily, there are some new solutions that work to make the treatment process much easier than ever before.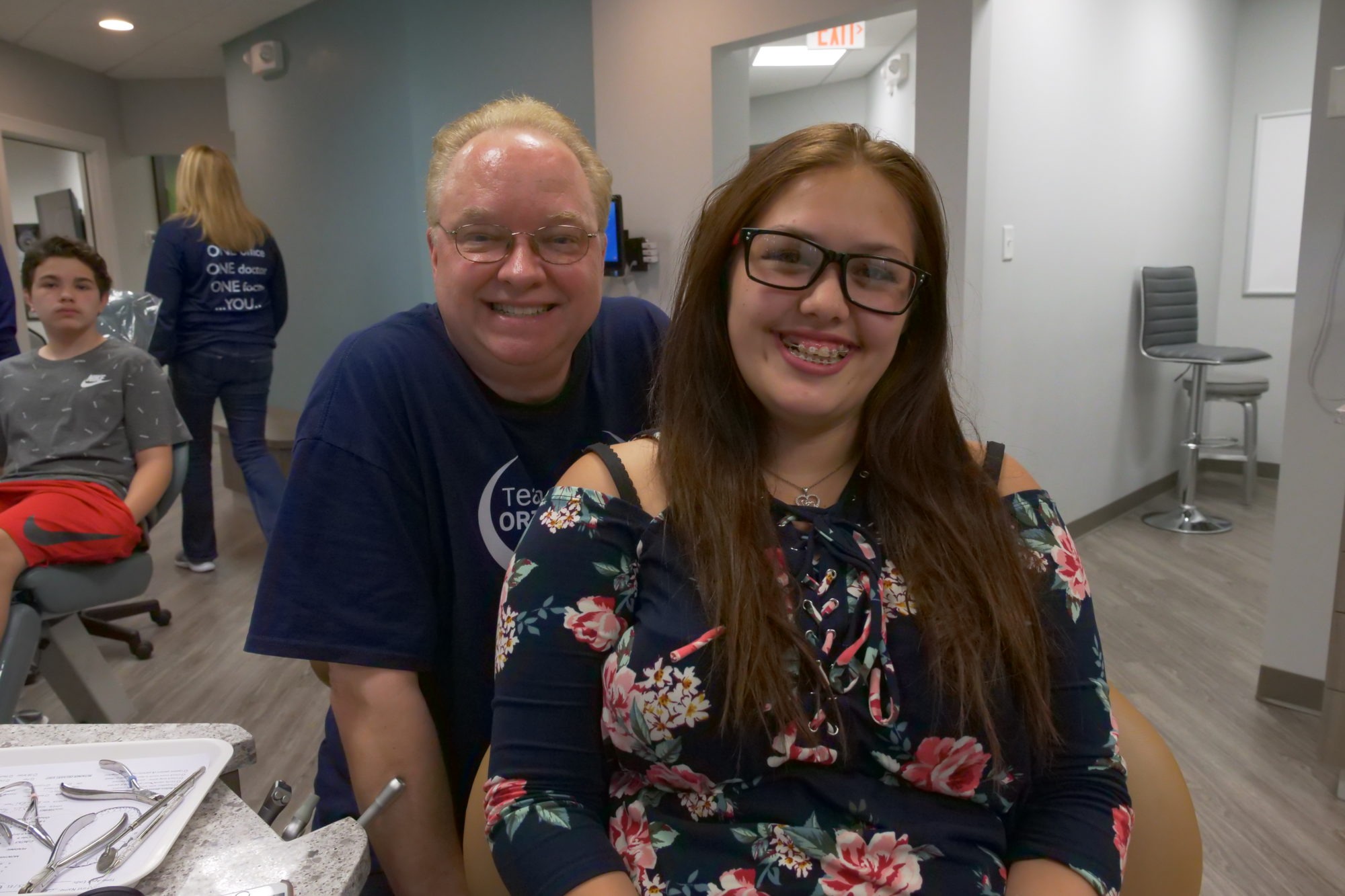 Braces have come a very long way, even within the past decade. When many people think of braces they think of extremely bulky metal brackets.
We don't use this type of bulky orthodontic appliance and many of the new braces are lighter and more comfortable than ever before.
Instead of extremely bulky metal brackets the braces and wire are made of light material that also works to retain its shape through the exposure of body heat.
This means that braces will not only keep to their shape but they'll require less adjustment, leading to shorter treatment time.
Ceramic braces and Invisalign® offer clear orthodontic appliances that are almost invisible.
With these options, teens can work to straighten their teeth without having to worry about looking any differently during treatment.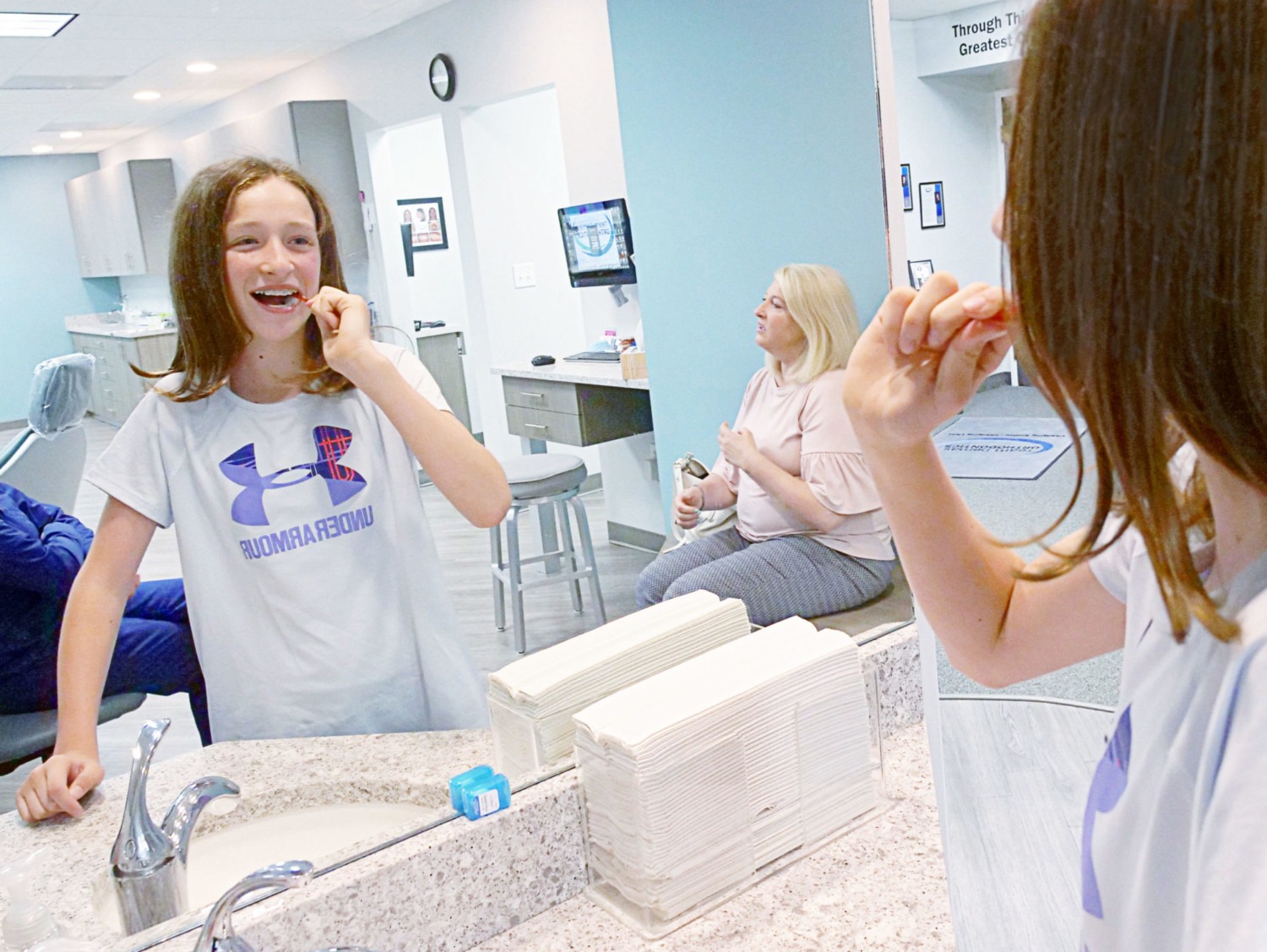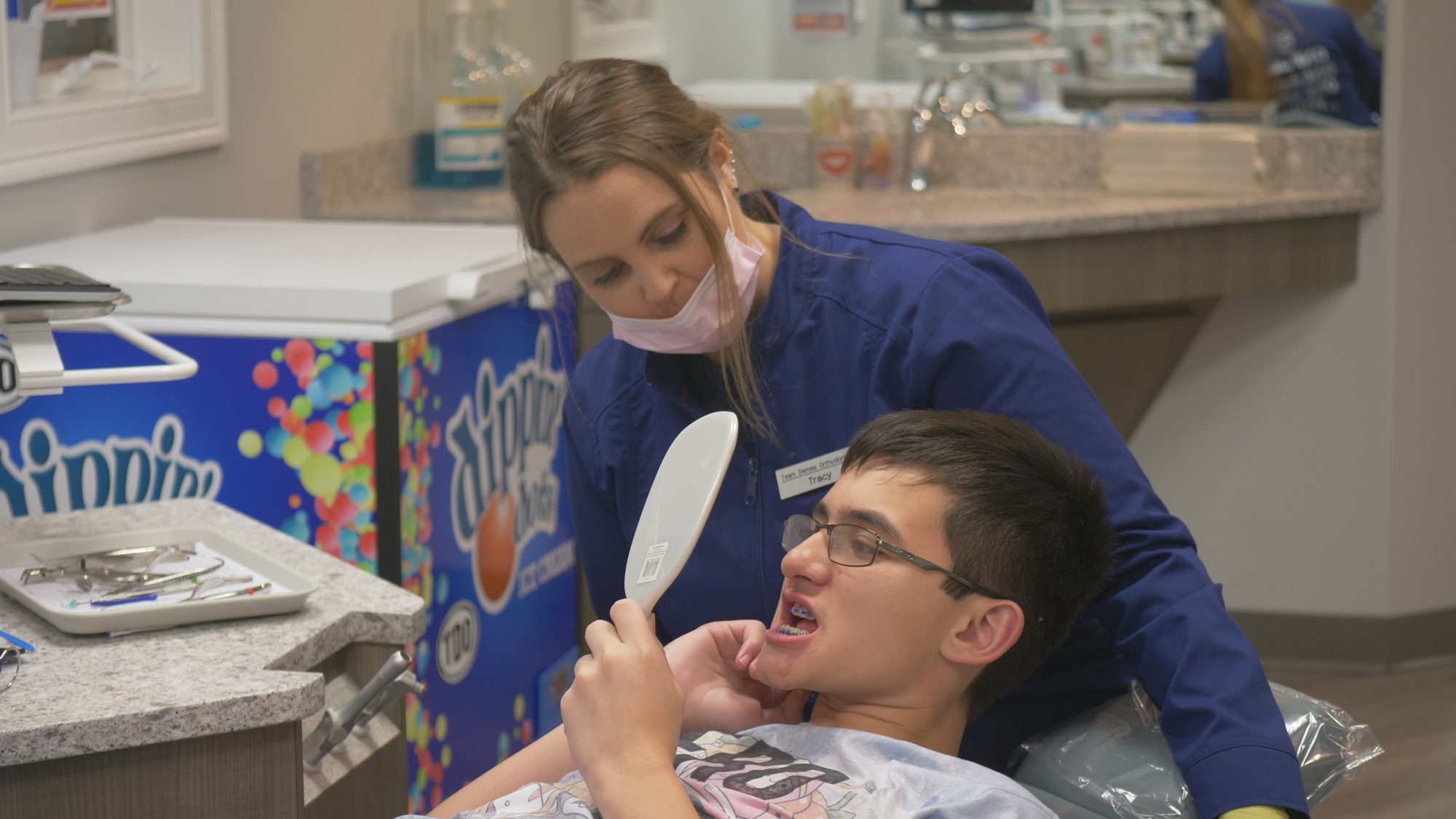 This treatment option is by far the most flexible way for teens to strengthen their teeth.
This is one of the most comfortable orthodontic appliances and also the most flexible.
Your teen can take out their appliance in order to eat and clean their teeth and the aligners are virtually invisible.
If your teen is hesitant about using an orthodontic appliance, the Invisalign Teen is a perfect option.
If you notice any of the following issues, contact us for a free consultation, as they could be signs your teen may benefit from orthodontic treatment.
Early, late, or irregular loss of their baby teeth
Difficulty with chewing or biting
Crowding or extra spacing between teeth
Jaws that shift or make sounds
Frequent biting of the cheek or the inside of the mouth
Teeth that meet abnormally or not at all
Jaws and teeth that are out of proportion to the rest of the face
Protrusion of their teeth
Early diagnosis and successful treatment of certain bite problems can benefit your teen in the short and long-term.
You can minimize problems classified as bad bites with the proper orthodontic treatment. These bad bites include:
Crooked or crowded teeth
Missing or extra teeth
An overbite or underbite
Incorrect jaw position
A disorder of the jaw joint
Every mouth is different, and every patient responds to treatment in their own way, so treatment time with metal braces will vary on a case-by-case. But, with our hyper-efficient techniques, most of our patients spend between 12-15 months in braces.
We have patients in braces for as little as six months, and for complex issues, it can take up to two years to complete the process. With metal braces, you can often see signs of improvement to your smile in just a short period of time, and that can help give you confidence inspiration during your treatment.
After this phase of treatment is complete, your teen will need to wear a retainer full time for about 4-6 months, then at night for as long as you would like the teeth to stay in their new positions.
If your teen athlete is wearing traditional braces, it's essential to protect their smile to keep on track with their treatment.
We strongly recommend that they use an orthodontic mouthguard to protect their braces, and their mouth, from any potential injury.
With the use of a proper orthodontic mouthguard, any contact sport can be played with braces.
Dr. Demas provides all of his patient athletes with a complimentary orthodontic mouthguard.
Because Invisalign aligners are removable, teens using this system can simply take their aligner out before practice or a game, and put it back in afterward.
Traditional metal braces can potentially affect the way your teen plays some instruments. Most musicians adapt quickly and are able to perform just as well with braces on.
Invisalign is an excellent alternative treatment, as removing the aligner before playing allows complete freedom for your teen's music-making abilities.
Although adults can, and do, successfully complete orthodontic treatment, the jaws and teeth of teenagers often respond more quickly to orthodontic treatment, shortening their total treatment time.