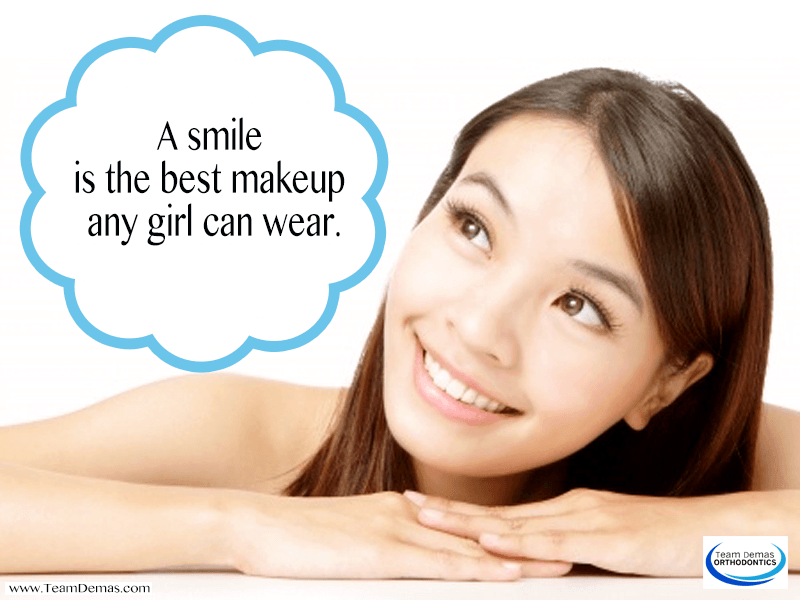 Did you know that several surveys show that men are attracted to women who wear 40 percent less makeup than women think they need? This should tell you that women are beautiful as they are. Maybe it's the smoky-grey eyes, the little button nose, or better yet, the confident but playful smile a woman can put on without a makeup brush or liner in sight.
Ditch the Make-Up Bag
Put away the heavy liner for today and one coat of bronzer will do. A smile is the best makeup a girl can have. No mascara brush, eye liner, or blush can compete with a confident and genuine smile. It's not the eyelash extensions, the concealer, or eyebrow liner that can draw a crowded room's gaze in your direction – it's your warm smile.
A Smile – the Best Make-Up Tool
It's amazing how a beautiful smile can transform an entire mood of a room, how it can break the ice, and cheer up the heart. You don't need to keep it in the medicine cupboard or keep spares in your purse. You can wear a smile and use it as the best kept secret on how to land that date, calm your toddler, or make it through the long line at the bank.
Since a smile is the best tool you can have in your make-up kit, be sure to make a consultation with an orthodontist at Team Demas Orthodontics. Office location are conveniently found in  Southington.
Convenient payment plans are offered that fit right into your budget so that your smile doesn't turn into a frown. Every woman is unique and the orthodontics at Team Demas have the expertise to help you achieve the perfect, long-lasting tool that can beat any make-up device invented – a confident, white smile. Call us today to schedule an appointment and get the best make-up kit you deserve.
Team Demas Orthodontics
27 Meriden Ave #2a, Southington, CT 06489, USA
Phone: 860-276-0333