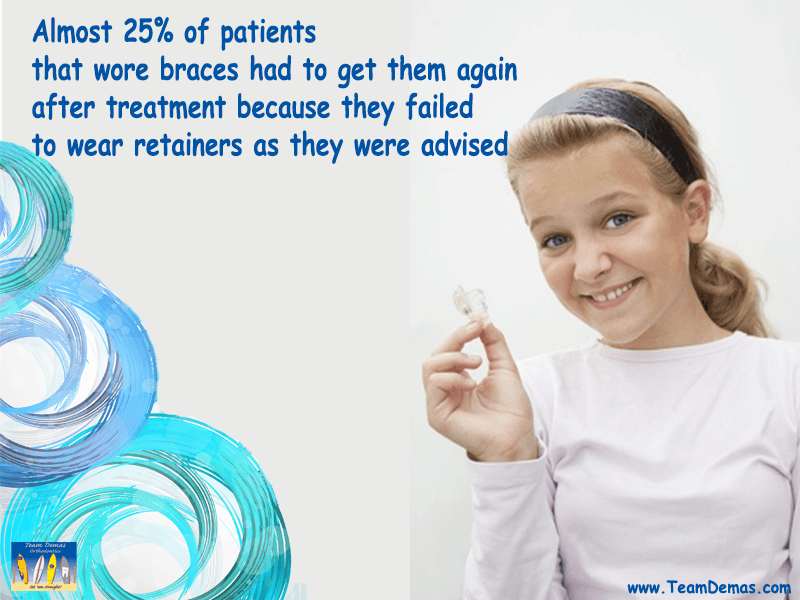 Did you know that around 25% of patients fail to comply with instructions about wearing a retainer, and as a consequence they have to get and wear braces again? Just one of those interesting orthodontic facts. You'd think most people would be motivated enough by the idea of having to wear braces again to remember to wear their retainer. Of course we do have to keep in mind that most of these people are children or teenagers.
Retainers?
Retainers are used after the braces have been removed. They look sort of like a sports mouthguard. In a young, growing child the teeth can easily shift position and become crooked again if the retainer isn't worn properly. The role of the retainer is to help hold the teeth in their new, straighter position until the surrounding bone and soft tissues adapt to the new position and stabilize them permanently.
Many children lose their retainers at school because they take them out to eat lunch and then forget to put them back on. Others fail to wear them as prescribed because they find it difficult to speak having them on. Figuring out how to speak while wearing a retainer is just a matter of practice.
How long?
Most children will need to wear a retainer for about a year after their braces are removed. Even Invisalign CT wearers will need a retainer until the teeth stabilize into their new position. Prescriptions for retainer wear are different for each individual. Some only need to wear their retainer at night. Others have to wear it all day and all night for a few months and then switch to only wearing it at night. It's important to ask the orthodontist for instructions and equally important to follow them.
If your child loses or breaks his/her retainer, it needs to be replaced as soon as possible. Call your orthodontist in CT immediately, or contact us. We are orthodontic specialists in Southington. If you think your child might need braces in CT, visit us for an evaluation today.
Team Demas Orthodontics – 27 Meriden Ave #2a, Southington, CT 06489, USA
Phone: 860-276-0333