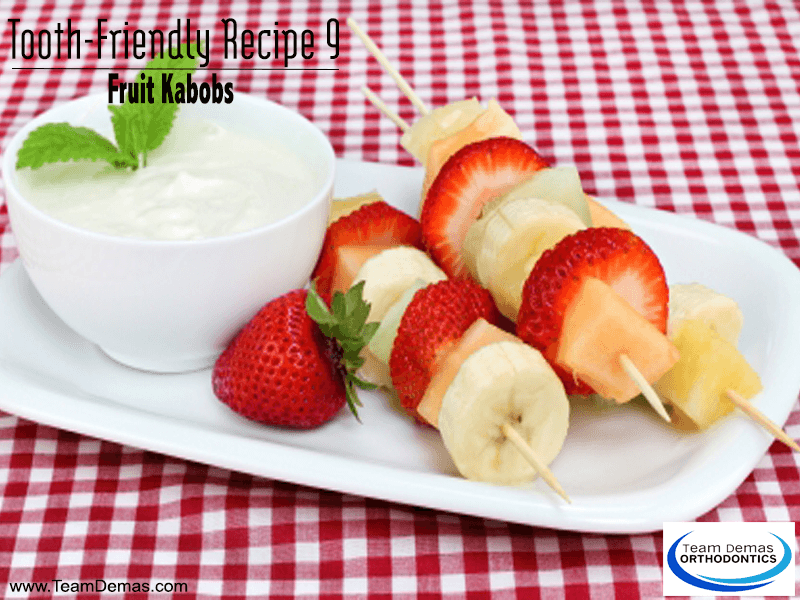 Searching for a healthy and delicious snack that is friendly on your smile? Try fruit kabobs! Fruit kabobs are a versatile and easy snack. Customize your kabob with your favorite tooth friendly fruit. A kabob is also a great choice for children because of the unlimited fruit combos!
Steps in making Fruit Kabobs
Start by picking tooth friendly fruit
Fruits high in fiber, such as apples, are the best choice. Fiber encourages saliva production, which naturally protects teeth. High fiber fruit also naturally scrub teeth! Canned fruit in natural juices may also be used, which is great for busy families on the go! As you are choosing fruit for your kabob, understand that not all fruits are great for healthy teeth. Fruits high in acid, such as oranges and lemons, will break down tooth enamel. Moderation is best with fruits high in acid to ensure healthy, beautiful teeth.

Best choices: Apples, Melons, Bananas, Grapes, Kiwi, Pineapple, Pears, Strawberries
 Enjoy in moderation: Oranges, Lemon, Lime, Grapefruit, Blueberries

Most fruits can be cut ahead of time and stored in an airtight container in the refrigerator
Cut pieces into 1 inch chunks, smaller for children. Apples, however, can be difficult to store cut. If you must cut them, consider using a fruit preserver. You could use a bit of lime rubbed on the cut surfaces or use a store bought product to prevent browning.
Next, grab a skewer and create some kabobs!
Simply push fruit onto a skewer, leaving a small space between each piece. Enjoy the creativity of customizing your snack. A serving size is about ½ cup or roughly the size of your balled fist.Take this snack to the next level by serving it with a yogurt based fruit dip. Low-fat Greek yogurt is a great source of calcium which provides essential minerals that protect teeth!
Contact Us
If you are having problems with the alignment of your teeth, then it's time to make a move and consult an orthodontist. Contact Team Demas today to schedule an appointment.
Team Demas Orthodontics
27 Meriden Ave #2a, Southington, CT 06489, USA