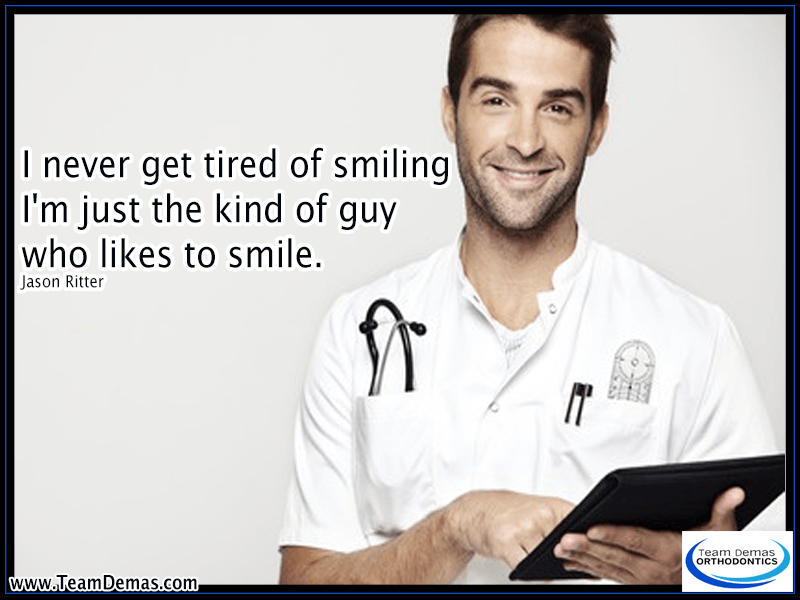 "I never get tired of smiling. I'm just the kind of guy who likes to smile." – Jason Ritter
Smile like Jason Ritter
Jason Ritter states that he will never get tired of smiling just like his famous father. John Ritter is well-known for his acting career, and Jason followed in his father's footsteps. Of course, Jason likes to smile because he has perfect teeth. You can also have an attractive smile by visiting an orthodontist to have an evaluation to begin wearing braces or aligners. Children who are beginning to get their permanent teeth should have an orthodontic examination to begin treatment at a young age. However, if you missed out on orthodontic care as a child, then it is still easy to undergo treatment.
Aligners or Braces
For moderate to severe malocclusions, you will need to wear traditional or lingual braces. In most cases, these types of braces are worn for two to three years to realign your teeth, depending on the severity of the case. Alternatively, an orthodontist can make 25 sets of Invisalign aligners for you to wear for six months to one year to improve the positions of your teeth. Anyone who wears Invisalign or metal braces still likes to smile because they know their teeth are going to look perfect soon. You will never get tired of smiling after your braces are removed or Invisalign treatment is completed.
Team Demas Orthodontics Provides Strong Teeth in Southington, Conn.
For strong teeth in Southington, contact Team Demas Orthodontics for an appointment with our orthodontist:
With an examination through medical images of your face and mouth, our orthodontists can determine the best type of braces or aligners for your needs. The types of orthodontic treatments available at Team Demas Orthodontics include:
Invisible braces / Invisalign
Ceramic braces
Lingual braces
Metal braces
Team Demas Orthodontics
27 Meriden Ave #2a, Southington, CT 06489, USA
Phone: 860-276-0333