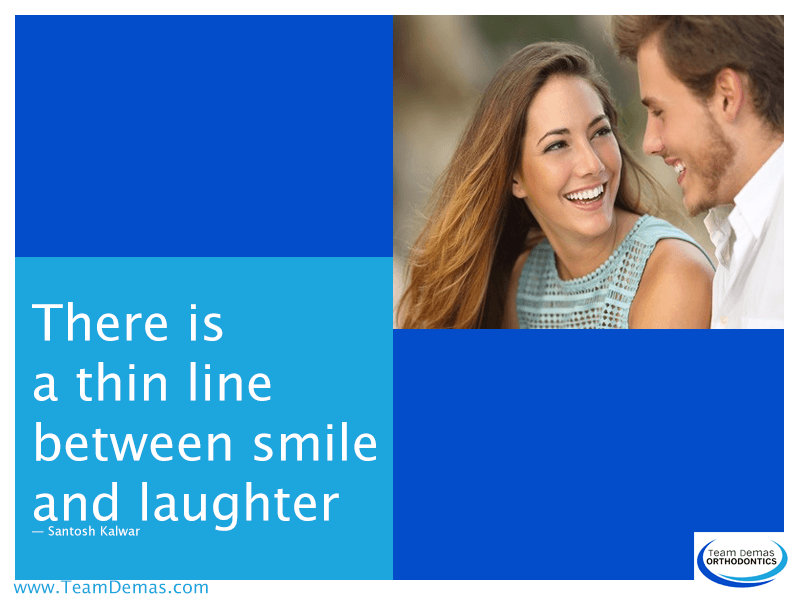 "There is a thin line between smile and laughter." ― Santosh Kalwar
Smile and laughter are closely related facial expressions because smiling typically precedes laughter. Many individuals do not want to smile or laugh because it shows their misaligned teeth to others, but it is easy to have straighter teeth by visiting an orthodontist for treatment. Improving the position of teeth can eliminate health problems such as:
Facial pain
Sleep apnea
Temporomandibular joint disorder
Earaches
Bruxism
Patients undergoing an examination by an orthodontist are frequently surprised to learn that poorly spaced teeth are the cause of health problems that affect daily living. Whether someone is a child, teenager or adult, it is possible to improve the condition of teeth with orthodontic treatments.
Learn How to Laugh with a Perfect Smile Created by an Orthodontist
There are numerous smile quotes written by people such as Santosh Kalwar because smiling is a universal greeting that everyone understands. However, for anyone too embarrassed to laugh or smile, orthodontic treatment with braces or aligners is the best option. Braces are available for different types of malocclusions and any age group. While children and teenagers are the primary patients at an orthodontic facility, more adults are choosing to wear removable aligners or permanent braces to straighten their teeth.
Call Team Demas Orthodontics to Receive Individualized Treatment
Dr. Don Demas manages orthodontic facilities in  Southington – 860-276-0333.
With state-of-the-art equipment, Dr. Don Demas can evaluate a patient's bite to create a treatment plan that includes wearing retainers, aligners or braces to straighten teeth. Wearing braces can change someone's life, leading to them smiling more often each day.
Team Demas Orthodontics
27 Meriden Ave #2a, Southington, CT 06489, USA
Phone: 860-276-0333