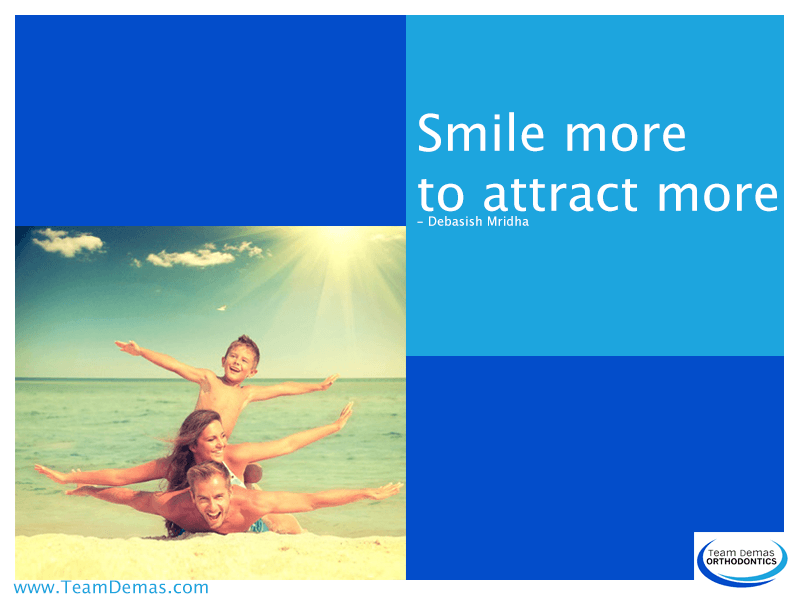 Smile More to Attract More
A quote by Debasish Mridha 
If you smile more, you will attract more attention during important events. According to studies, people who have a light teeth command a room when they smile. When most teeth have a dark shade, a smile is less attractive.
Achieving an Attractive Smile
When photographers view a smile, they pinpoint five key features. To take a wonderful photo, an orthodontist must improve your:
Smile arc
Gum display
Maxillary gum line
Incisal edge
The curve of a smile is called the smile arc. The arc is created by the incisal edge and the gum line. A proper smile arc has a minor upward curve and a narrow end.
The gum display is very important because it influences specific muscles that create a smile. When the gum display is too wide, a smile appears gummy. If only a small portion of the gum is displayed, a smile will look old or toothy.
An attractive smile must have a healthy color that compliments the smile arc. Inflammation and redness that is caused by gum disease make gums less appealing.
The maxillary gum line is located in the area where the gums and teeth meet. If the gum line is disrupted, certain teeth will look crooked.
The incisal edge is another arc that defines a smile. Whenever you chew something, your top teeth will cut into the food. If the gum line is not symmetrical, your smile will not be attractive.
Get a Treatment Today and Smile More
At Team Demas Orthodontists, you can get a treatment that will enhance your skeletal and facial features. All procedures that are implemented at the clinic meet specific guidelines that were established by the American Association of Orthodontists. To get smile quotes, contact the office by phone or fill out the form on the official website.
Team Demas Orthodontics
27 Meriden Ave #2a, Southington, CT 06489, USA
Phone: 860-276-0333