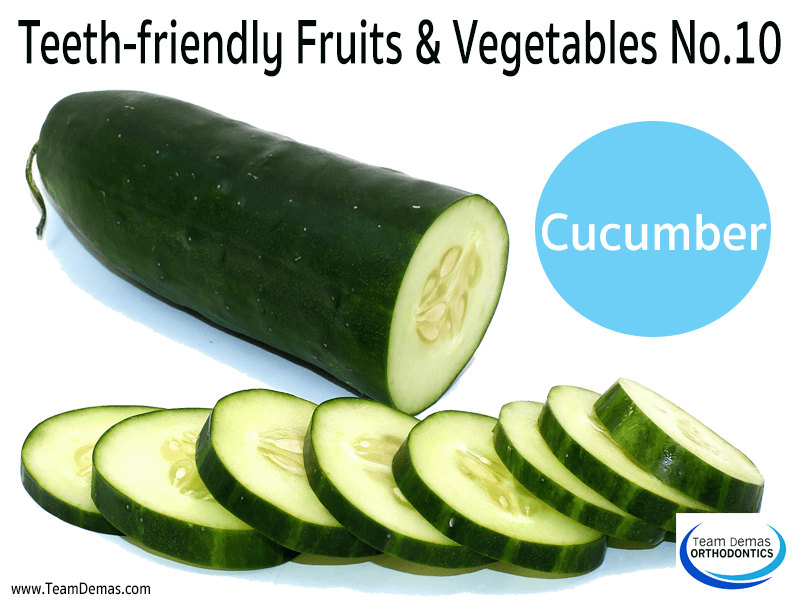 Team Demas Orthodontics, which offers Southington Invisalign Teen and Invisalign for Adults in Southington, strives to provide the best care for our patients. Winning a healthy smile, however, starts at home. We have all been stressed the importance of oral hygiene, from brushing our teeth daily to flossing regularly, but what else can we be doing? The answer is simple: Combating disease and decay with healthier eating habits.
The Power of Fruits and Vegetables
It's no mystery that plaque and eating too many sugars can accelerate tooth decay. The question is, what foods counteract these problems? When it comes to any kind of disease, our bodies need strength from nutrients to defend itself. These nutrients include vitamins and minerals, but also antioxidants. Antioxidants are powerful components found in many fruits and vegetables. Nothing does more good for our bodies – and our mouths – than fresh produce.
Cucumber: A Teeth-Friendly Food
The cucumber is an excellent example of a vegetable with powerful side-effects. Not only do cucumbers and similar vegetables contain lignans that have powerful anti-cancerous traits, but they are chockfull of antioxidants and Vitamin C. Antioxidants are necessary for combating all forms of diseases, including the ones that attach our teeth and gums. Vitamin C, on the other hand, is notorious for its ability to support the immune system – another way to ward off disease and infection. Cucumbers are an example of an agreeable vegetable – subtle taste, easy to eat, and capable of being added to nearly anything. Whether eaten sliced, added to a sandwich, or blended in a smoothie, cucumbers add a lot of punch to our health in very discreet ways. Adults, teens, and children alike would benefit from adding cucumber to their diets.
Star your journey to better oral health today by contacting the best Invisalign provider of Southington, Team Demas Orthodontics!
Team Demas Orthodontics
27 Meriden Ave #2a, Southington, CT 06489, USA
Phone: 860-276-0333