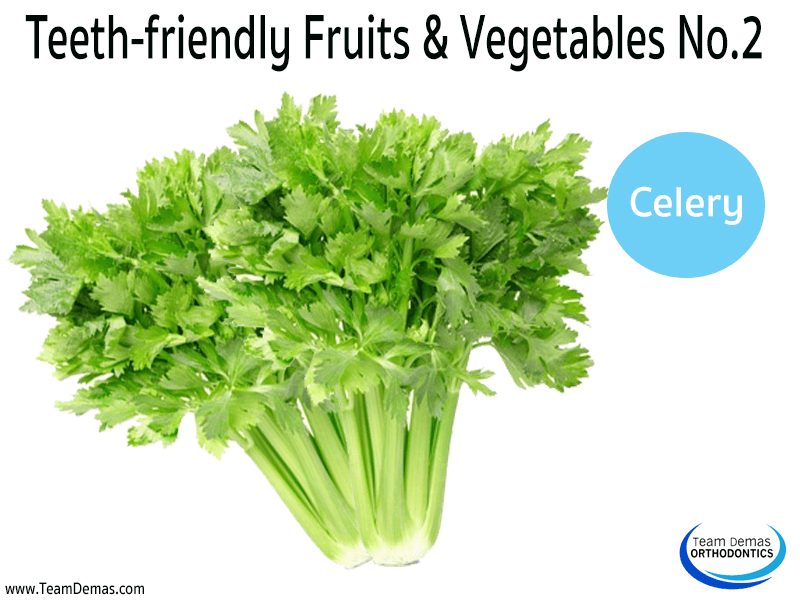 It is widely known that teeth should be kept well brushed and flossed to maintain their health. However, cleaning is not the only thing important for a healthy mouth. Proper nutrition is also necessary to keep your teeth healthy. The nutrients found in food help combat diseases, decay, plaque, and even infections. Various plants, including fruits and vegetables, bolster the fighting capacity of teeth with their rich sources of antioxidants. While fluoride and other supplements are important for maintaining strong teeth, making the right food choices every day can have an even greater cumulative impact.
Celery: An Example of Teeth-Friendly Vegetables
Consuming vegetables – especially raw – is an effective way to prevent plaque and the onset of decay. This is especially important for children who may prefer to eat sugary candies instead. Celery is an example of teeth-friendly vegetables that can be eaten raw with dip or peanut butter, making it more attractive to picky-eaters. Furthermore, all the cellulose and fiber contained in vegetables like celery promote teeth whitening. Orthodontists at Team Demas Orthodontics Braces encourage their patients to increase the amount of teeth-friendly vegetables to promote good oral health and hygiene.
Celery for strong teeth
At Team Demas Orthodontics Southington Braces, customer health is of the utmost importance. Children and adults alike are encouraged to make dietary choices that will benefit their bodies and their mouths. Whether currently in or out of braces or just considering them, customers can come to Southington to learn how eating celery for strong teeth can make a difference for them. With any questions or concerns about oral health, feel free to contact Team Demas Orthodontics Southington Braces. From the website you can find more information on hours, appointments, complimentary consultations, and on what changes you should be making for yourself – or your children's health – today.
Team Demas Orthodontics
27 Meriden Ave #2a, Southington, CT 06489, USA
Phone: 860-276-0333