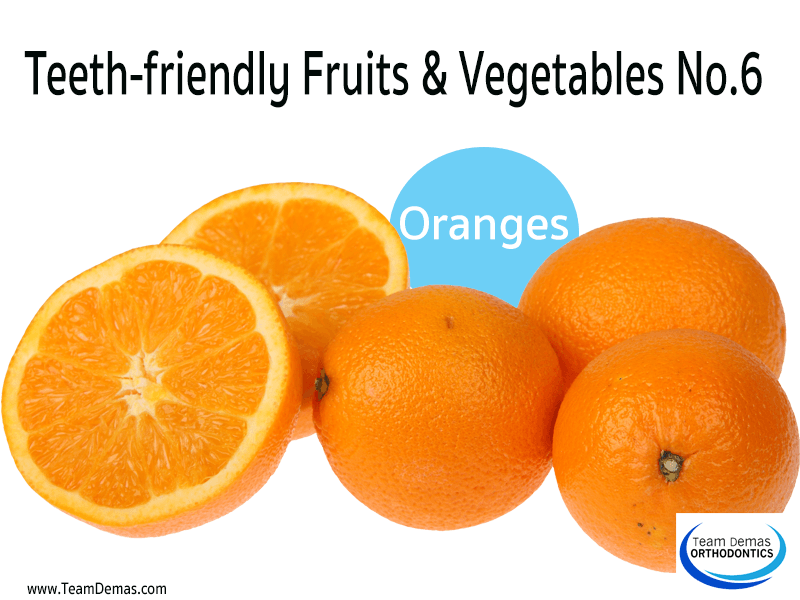 Oral hygiene is very important to our overall health. For those with braces, careful cleaning is even more important. However, we can do more for our teeth than just brush, floss, and have periodic fluoride treatments. What we eat also has a huge impact on the health of our gums and teeth alike.
The Power of Food in Oral Health
Teeth and gums are subject to decay, disease, plaque, and other ailments. Certain foods can combat these problems from both the inside and the out. Foods that are high in fiber and cellulose help cleanse our teeth as we snack. Meanwhile, the antioxidants found in some food help our mouths – and bodies – combat threatening disease. An example of one food with powerful antioxidants is the orange. Not only do oranges and other citruses have excellent nutrients and vitamins, they are also palatable to even the most picky-eaters.
Keep Smiling with a Healthy Diet
Investing in the right food choices will save you in the end. At Team Demas Orthodontics, which also offers Invisalign for Kids Southington, we encourage all customers – but especially parents – to replace sugary snacks with more beneficial fruits and vegetables. We need our teeth to be healthy for a lifetime, and every day we make dietary choices that could impact oral health. Even customers sporting braces will find that fruits and vegetables can be easily incorporated into their diets. Foods like apples may have to be sliced to accommodate eating with brackets, but some foods, like oranges, are easy to peel and eat. As a sweet lunch snack, consider packing a cup of mandarins in light syrup. It's that easy.
For more information about how to improve oral health through good eating habits, contact Team Demas Orthodontics Southington and Keep Smiling!
Team Demas Orthodontics
27 Meriden Ave #2a, Southington, CT 06489, USA
Phone: 860-276-0333