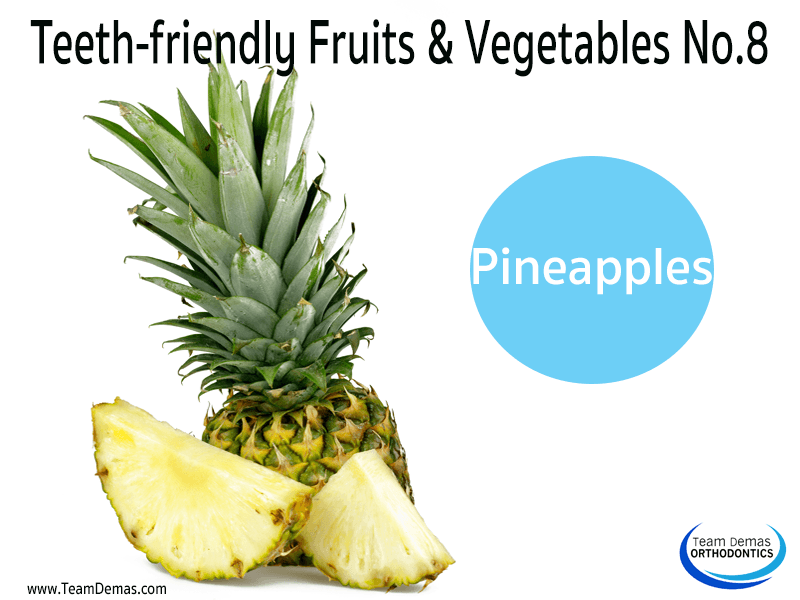 At Team Demas, we get lots of questions from mothers asking about which kinds of teeth-friendly fruits are good for their kids. Today we're going to look at a unique tropical fruit, packed full of essential vitamins and nutrients: the pineapple.
The Health Benefits of Pineapple
Pineapples are one of the world's healthiest foods, combining a juicy sweetness with a refreshing tartness. Second only to popularity to bananas in the United States, pineapples are one of the healthiest and most delicious teeth-friendly fruits to give to your kids. Not only does every serving of pineapple come with a healthy dose of Vitamin C, but pineapple also contains significant amounts of manganese, copper, vitamin B6, and vitamin B1 (also known as thiamine).
Pineapple is unique in that it contains bromelein, a special enzyme that has been proven to be an effective anti-inflammatory agent and antioxidant. The other enzymes in pineapple are excellent for promoting a healthy digestion as well as boosting the immune system.
Orthodontics in Southington
At Team Demas, we believe that every client has the right to a beautiful smile. That's why we offer the best orthodontics in Southington, with a wide variety of styles of orthodontics to suit every need, including the advanced Invisalign line of nearly invisible braces.
Take a good look at the next person you see because chances are that their perfect smiles are the result of Southington braces expertly applied by the orthodontic professionals of  Team Demas.
The Perfect Smile is Waiting for You
If you would like to know more about how braces and other orthodontic services can give your kids a perfect smile, do not hesitate to contact us via the website. Our team of orthodontic professionals will be happy to answer your questions via electronic message or by telephoning our  convenient office in  Southington (860-276-0333).
Team Demas Orthodontics
27 Meriden Ave #2a, Southington, CT 06489, USA
Phone: 860-276-0333