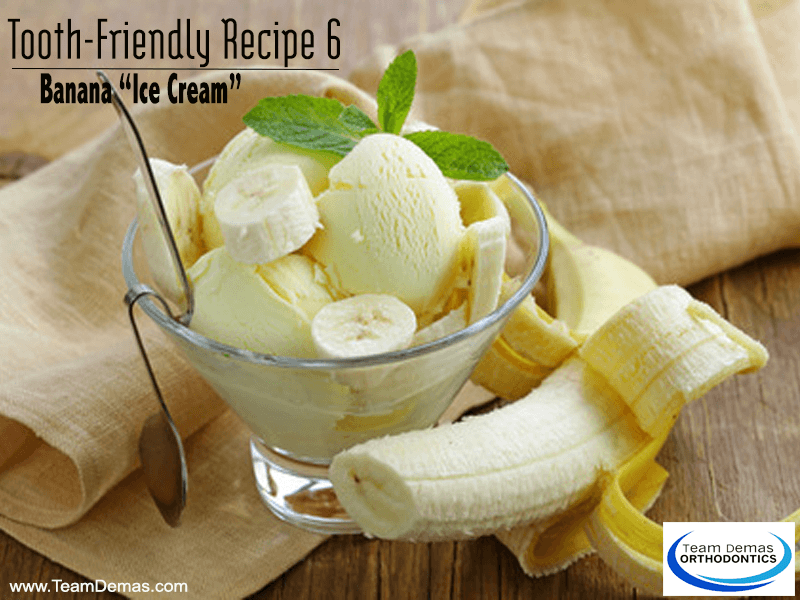 Who doesn't love a big bowl of ice cream on a hot summer day, or as the perfect sweet treat to cap off a delicious meal? The trouble with it is that it's loaded with sugar, just itching to attack your teeth and cause cavities.
If you're looking for a tooth-friendly recipe that contains the sweet, creamy goodness of banana ice cream without all the added sugar (and calories!) of the original, your search is over. This is a recipe you can make for your family that everyone will rave about – including your orthodontist!
The best part? You can flavor it with a number of ingredients!
Banana Ice Cream Ingredients and Direction
You will need:
– 2 large bananas, frozen
– 1/4 cup skim milk
1. Place the bananas in a food processor or blender.
2. Puree 1 minute, then scrape down sides.
3. Add milk, puree 2-4 more minutes, scraping down sides after each minute.
4. Serve with fruit topping, or on its own.
This is a great tooth friendly recipe because it combines fresh bananas, with all their potassium, and the fantastic calcium-containing milk. As far as sweet, frozen treats go, you can't do much better than this banana ice cream!
Optional Ingredients
If you'd like to switch it up a little, or just add an unexpected twist, consider these fun add-ins:
– Crushed nuts (peanuts, walnuts, pistachios)
– Frozen berries (puree with banana before adding milk)
– Peanut butter
– Cinnamon or Cardamom
– Honey
These are all low-calorie and healthy ways to take your ice cream to a whole new level! In fact, if you're hosting a birthday party or want to make a family night special, consider setting up a sundae bar. Serve this frozen banana treat alongside all the fixings and let the little ones mix and match as they like.
For more great ideas about ensuring the oral health, contact the professionals at Team Demas Orthodontics
Team Demas Orthodontics
27 Meriden Ave #2a, Southington, CT 06489, USA