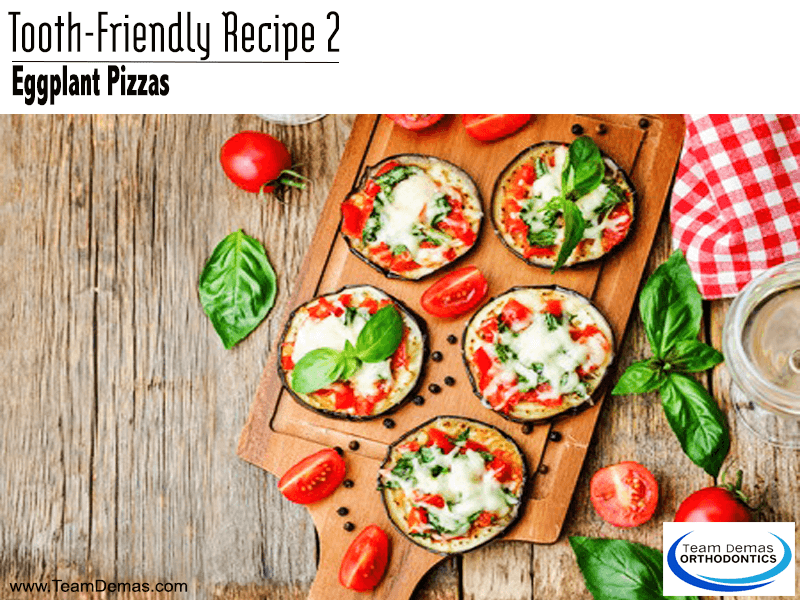 Your kids might love pizza, but some types of pizzas can be bad for teeth with braces. Some pizzas use sauces that are high in sugar and can contribute to oral decay as a result. However, if you want a pizza recipe that is very good for your kids' teeth, consider making eggplant pizzas.
Ingredients
2 medium eggplants
2 cups grated cheese
1 Pound of Roma tomatoes
Olive oil
Additional ingredients
Salt
Pepper
Oregano
Basil
2 Cloves of garlic
Preparations
Preheat the oven to 400 degrees Fahrenheit. The baking tray should be greased with olive oil to prevent the pizza from sticking.
Assembling The Eggplant
The tooth friendly eggplant should be cut into circles that are a half-inch thick and they should be placed on the baking tray. The eggplant pieces should always be cut to twice the size you want them to eventually be. Sprinkle salt on the eggplant for taste.
Cut the tomatoes into circles. Make sure to trim the top and bottom parts of the tomato off. Each tomato should be about a quarter-inch thick. Then, put the tomatoes on the eggplant and try to completely cover them.
Make sure to not peel the garlic before you press it. After the garlic cloves have been sent through the garlic press, place some garlic on each tomato.
The Final Touches
Sprinkle oregano, basil, and pepper on top. Sprinkle the cheese and distribute it evenly over the pizza.
Pop It in The Oven
Place the pizza in the oven and cook until the cheese is golden-brown. This should take 15-25 minutes.
Team Demas Orthodontics
27 Meriden Ave #2a, Southington, CT 06489, USA
Phone: 860-276-0333