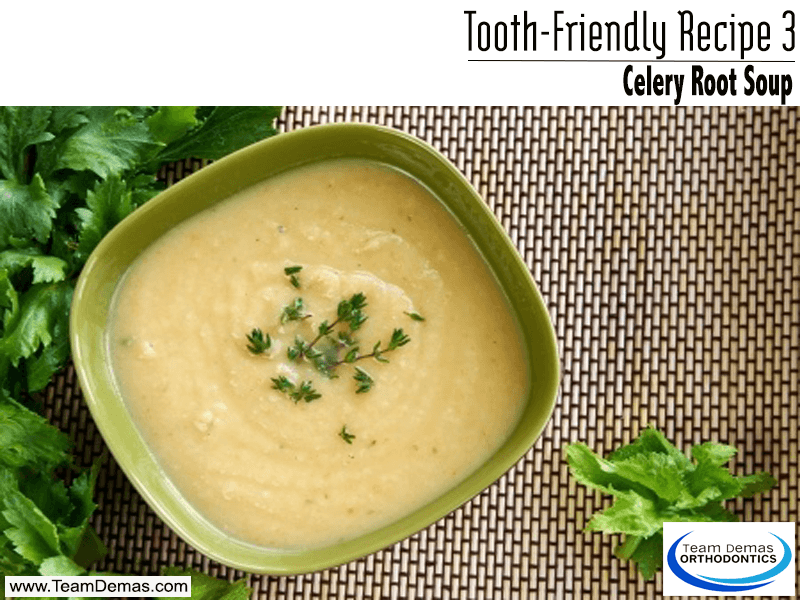 This warm, spicy winter soup makes for a filling, nutritious, and friendly food. Many people aren't familiar with celery root, also known as celeriac, but it has a unique earthy taste that this recipe showcases.
What makes this recipe tooth friendly? Lots of Vitamin A, which helps build strong bones and teeth, and vitamin C, which promotes gum health. Plus, a smooth creamy texture that won't stick to teeth or braces!
Celery Root Soup Ingredients:
2 tbs butter
2 celery roots, 1 lb each, peeled and cut into 1″ chunks
2 medium onions, chopped
1 cup celery, chopped
Salt and pepper
2 garlic cloves, minced
1 tsp celery salt
1/8 tsp cayenne pepper or chili powder
1/2 cup dry white wine
5 cups chicken or veg stock
1 cup whipping cream
Fresh chives or celery leaves for garnish
To peel celery root, chop off the top and bottom and then use your knife to trim off the bumps and roots on the sides and reveal the creamy flesh. A sturdy vegetable peeler may also be needed to complete the job.
Melt the butter in a large saucepan over medium heat. Add the roots, onions, and celery, and sprinkle with salt and pepper. Cover pan and cook, stirring occasionally until the vegetables are tender (about 20 minutes). Add wine and boil until it reduces about 8 minutes. Add stock and bring to boil, then reduce heat and simmer until vegetables have been thoroughly softened (about 15 minutes). Puree soup in a blender (either in batches or by using an immersion blender). Return soup to saucepan, add cream and simmer until soup thickens. Sprinkle with chopped chives or celery leaves and serve.
There are many variations on this recipe. You can add other root vegetables, such as potatoes or carrots, to the celery root. Tart apples, such as Granny Smiths, are another interesting addition.
Team Demas Orthodontics
27 Meriden Ave #2a, Southington, CT 06489, USA
Phone: 860-276-0333