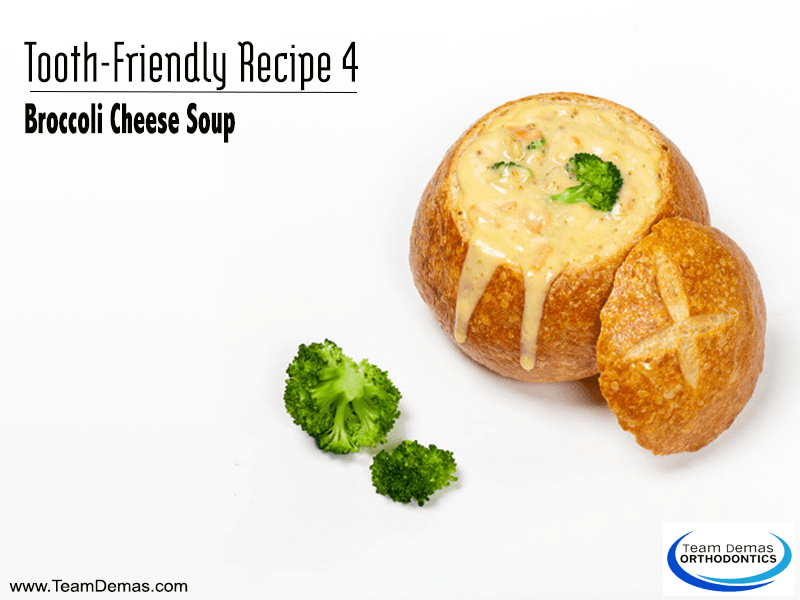 Soup is an ideal meal any day of the week, but it is an especially good choice for anyone who wears braces. With a creamy and soft consistency, this broccoli cheese soup recipe is a tooth friendly soup; there are no tough pieces of meat or vegetables to get stuck in braces or between teeth. Also, fresh broccoli is a powerhouse of vitamins and nutrients and cheddar cheese has been shown to promote dental health. This soup tastes great and is easy to prepare, using ingredients and utensils most moms have on hand.
Ingredients
1/4 cup butter
1 yellow or white onion, diced
2 cloves garlic, finely minced
1/2 teaspoon ground white pepper
1 teaspoon dried mustard
1 pound fresh broccoli, chopped fine
1 quart chicken broth
1/2 cup all-purpose flour
1 1/2 cups whole or 2% milk
12 ounces shredded sharp Cheddar cheese
Directions
Over medium heat, melt butter in a large sauce pan. Cook onion until it is softened and transparent. Add garlic, pepper and dried mustard. Cook for 1 minute, then stir in the broccoli and chicken broth. Bring to a low boil and simmer until broccoli is tender, 10 to 15 minutes.
When the broccoli is nearly done, combine flour and milk, stirring until flour is dissolved. Pour flour mixture into soup, stirring constantly until thickened. Reduce heat, add cheese and stir until melted and heated through. Serve.
Importance of Good Oral Health
The problems that result from improperly aligned teeth are far more serious than self-consciousness over an unattractive smile. Crooked or protuberant teeth are harder to clean, will develop uneven wear patterns, and may present difficulties during standard dental care procedures. For more information or to set up an appointment for a consultation and discussion of treatment options, visit Team Demas Orthodontics now.
Team Demas Orthodontics
27 Meriden Ave #2a, Southington, CT 06489, USA
Phone: 860-276-0333