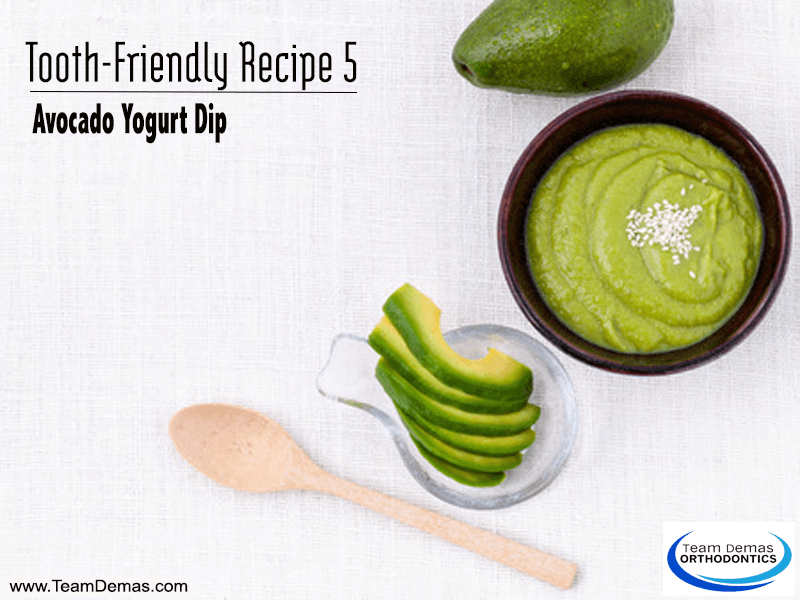 Summer is a great time for entertaining and trying out new recipes with friends and family. The beautiful weather allows for lots of opportunities to gather outdoors for cookouts and parties.
However, it is easy to get caught up in the excitement of summer and entertaining that we forget how important it is to eat tooth-friendly foods – recipes that are delicious but are also nutritious for our bodies and our teeth. Your smile is likely to be the first thing people notice about you and one of the simplest and most important ways to keep them healthy is to be mindful of the foods you are eating.
With that in mind, our office would like to share a recipe for a tooth-friendly yogurt dip that is creamy, delicious, and perfect for your summer outdoor gatherings.
Avocado Yogurt Dip Recipe Ingredients:
• ½ cup plain Greek yogurt
• 2 ripe avocados
• 1 clove garlic
• 3 Tablespoons fresh cilantro, chopped
• 1 Tablespoon jalapeno pepper, seeded and diced
• 2 Tablespoons lime juice
• ¼ tsp. Ground cumin
• Salt and pepper, to taste
Directions:
1. Remove the center seeds from the avocados and scoop out the flesh into a small bowl.
2. Dice the garlic clove, chop the fresh cilantro and jalapeno pepper and add to the avocado.
3. Transfer the avocado mixture to a food processor or blender.
4. Add the yogurt, lime juice, and cumin to the avocado mixture.
5. Mix until smooth. Add salt and pepper to taste.
6. Serve with pita chips or cut up veggies, such as carrots and celery.
Enjoy this delicious avocado yogurt dip recipe with your guests and be rest assured that the ingredients are healthy and nutritious.
Team Demas Orthodontics
27 Meriden Ave #2a, Southington, CT 06489, USA
Phone: 860-276-0333