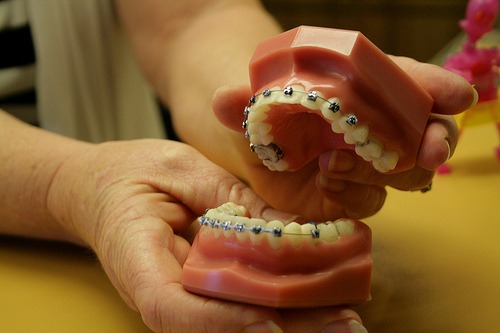 Understanding How Self-Ligating Braces Work
Misaligned teeth have been impacting people's smiles for a long time. Braces have been utilized for hundreds of years as a way to straighten the misaligned teeth of children, as well as adults. There have been developments in orthodontics concerning the design of braces. The goal has always been to make them more comfortable and easily accessible. With traditional braces, a person's mouth has archwires, brackets, and bands in place to put pressure on the teeth. This is done so the teeth can be put in proper alignment. This method requires regular orthodontic visits so the bands and archwires can be adjusted as needed. This is how traditional braces are kept working correctly. Now, there is a new type of braces available. Self-ligating braces utilize clips and not rubber bands.
FAQ
Orthodontic Treatment
People can benefit from braces at any age. Approximately 25 percent of the dental patients today that are getting braces are adults. With children, there is usually phase I and phase II treatments. Phase I takes place prior to all of a child's permanent teeth being developed. This usually occurs before the age of ten. Such treatments may be necessary to increase space for developing teeth as well as to correct overbites, cross bites or under bites and more. Phase II treatment happens after all of the permanent teeth have erupted. This could involve braces and usually happens when a child is between the ages of eleven and thirteen.
Self-Ligating Braces History
Self-ligating braces were being used as far back as the 1930s. The first popular self-ligating braces to be used on a wide scale were SPEED Braces. They were introduced during the 1980s. There are currently a number of different self-ligating braces types an orthodontist can use for their patients.
Benefits
Orthodontic patients who choose to have self-ligating braces soon learn they are quicker for an orthodontist to place onto teeth. A person with these types of braces will have to make fewer dental office visits than with traditional braces. This is because of the archwire attachment that is utilized. Each tooth can now easily be closed over the wire. Traditional braces require an orthodontist to tie each to the connecting wire. This is very time-consuming. Self-ligating braces require significantly less time for a patient's initial fitting as well as any required adjustments. Orthodontists notice patients tell them that the self-ligating braces are comfortable than with other types of braces.
The arch wire on the front teeth has a little movement. This means there is a decrease in the stress on a person's teeth. This will result in less discomfort for the person wearing the braces. It is easier to keep self-ligating braces clean. This means a decrease in the chances for tooth decay. Fewer food particles are trapped by the braces. The base can be made of metal, but it can also be made of a translucent ceramic. This will make the braces far less noticeable. Self-ligating braces require a shorter time to achieve the desired results. In some cases, it could decrease the time by as much as six months when compared to traditional braces.
Active and Passive Self-Ligating Braces
The two most common self-ligating brace types are active and passive. The passive version of self-ligating braces is designed to use the archwire that is smaller. This results in a decrease of friction. It means a patient's teeth can move more easily. Active self-ligating braces have a thicker archwire. This will increase the pressure to move a person's teeth into the correct position. The active version does apply more pressure but doesn't create any discomfort.
Different From Traditional Braces
Self-ligating braces are usually smaller than traditional braces. There are no elastic bands or ties as with traditional braces. They are also more attractive since they normally are off from the teeth and placed further toward a person's cheeks and lips. Unlike traditional braces, the self-ligating braces utilize a type of slide mechanism to hold the archwire in place. This was designed to lessen pressure placed on the teeth. Traditional braces will have to be fit onto teeth. The self-ligating braces are glued onto a person's teeth. It is not possible to remove them until treatment is finished. This is how self-ligating braces work
Bonding
The brackets used when putting in self-ligating braces will be bonded with the clip in the open position. This will reduce any chance of the bonding material interfering with the function of the clip. A traditional bond adhesive will be used when the brackets are attached to a patient's teeth. Once the brackets are aligned and parallel, the archwires will then be installed. A clip will be opened and the archwire will be inserted and properly adjusted.
Oral Hygiene
One of the most important aspects of getting straight teeth is maintaining good oral hygiene while wearing braces. Self-ligating braces eliminate the need for elastic bands during the treatment process. This means it's not necessary for a person to regularly look at their braces in the mirror to see if any food particles are stuck. Self-ligating braces will not stain during the treatment process so a person's smile will look healthy. These braces also make it easier to effectively brush and floss.
Choosing Self-Ligating Braces
It is important for anyone who wants the benefits of self-ligating braces to consult with their orthodontist first. They need to learn if their individual situation will benefit from these types of braces. It all will depend on the type of treatment needed and the severity of a person's dental situation. A trained and experienced orthodontist will know what will achieve the best possible results.
Team Demas Orthodontics
It is possible to get self-ligating braces. A person only needs to contact Team Demas Orthodontics and schedule an appointment. Dr. Demas is an experienced and knowledgeable orthodontist who is proficient in the latest technical advancements in the world of orthodontics. Self-ligating braces are some of the professional services he offers. Contact Team Demas today and learn more.
Team Demas Orthodontics
27 Meriden Ave #2a, Southington, CT 06489, USA
Phone: 860-276-0333