9 Reasons Why Widely Spaced Teeth Impact Your Overall Health
Most people focus on the aesthetics of widely spaced teeth. They want to improve their look, smile, and self-esteem.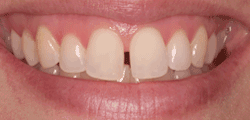 However, there are more than just appearance problems that you should be concerned with. Teeth that are spaced too widely apart can cause great health issues. Sure, you want to have the confidence of a beautiful smile, but those spaces between your teeth can do more than damage your smile. They could be ruining your health.
1. Gum Disease
Your overall health begins in your mouth. What you put into your mouth is a good start, but your teeth play an important role in your health too. If there are large spaces in-between the teeth, then there is ample space for bacteria to build up. Plaque and tartar are always looking for a nice, warm spot to multiply. When your mouth is filled with this type of bacteria, it can cause other problems too. These pockets of bacteria can lead to gingivitis if left untreated. Gingivitis can lead to periodontal disease. The longer this disease goes undiagnosed and treated the more sorts of problems it can cause. It is a recipe for disaster. Thankfully, utilizing various teeth straightening methods can prevent bacteria from breeding.